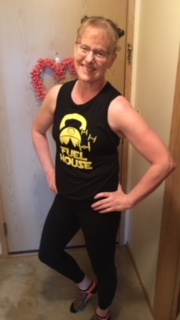 We like to showcase our Epic Humans who are #crushinggoals. This beautiful woman pictured here is a SUPER WOMAN. She shows up at 6am, with the biggest smile on her face, hands out hugs to all who are ready to receive, sometimes on only 3 hrs of sleep, and does the work. She never complains, whines, or gives excuses. While holding down a full time job outside the home she is also a mother to two beautiful babes. Joyce has an infectious way of making you feel so loved. She has trusted us to guide her both in fitness and nutrition, and for that we are so grateful. Joyce, you make our work so enjoyable and rewarding. Thank you for being a role model for so many. We love you.
By staying consistent in my weekly workout routine at Fuelhouse and working with Jess in cleaning up my diet, I have gained so much strength and energy! I haven't felt this good in awhile!- Nutrition Client, Joyce L.
Q: Why did you start working with Jess on nutrition?
J: "I started working with Jess in 2014 when training for my 2nd marathon. I had a 45 minute PR on my time. At the beginning of this year I reached out to Jess again due to my cholesterol being high. My doctor immediately wanted to put me on statins but I refused. Within a couple of months of working with Jess and utilizing her recommendations I was tested again. My cholesterol went from 264 to 199 and I got a bonus of losing 17 lbs."
Q: How has your recent successes impacted your life?
J: I am raising my two grandchildren 3 and 2 and it's giving me the energy to be able to keep up with them."

Q: What is the biggest consistent change you've made to your nutrition?
J: One of Jess's recommendations was to have a lot of pre cut veggies in the fridge all the time. And to start my work week with some sort of protein cooked in the crock pot along with some deli meats for quick and easy weeknight meals.

I'VE LOST ... 17 lbs which has been one of my biggest goals.


I'VE GAINED ... a great way of balancing my evenings and not being so stressed about how to feed my family when getting home from work and being exhausted. Instead, I have it planned out for the week which gives me more time to spend with the babies.
Dozens of our clients have already used our methodology to fix their nutrition and get results in the gym. We would love to share the proven process that has already helped over tons of clients achieve lasting results.