I'm getting my meal prep game on…finally.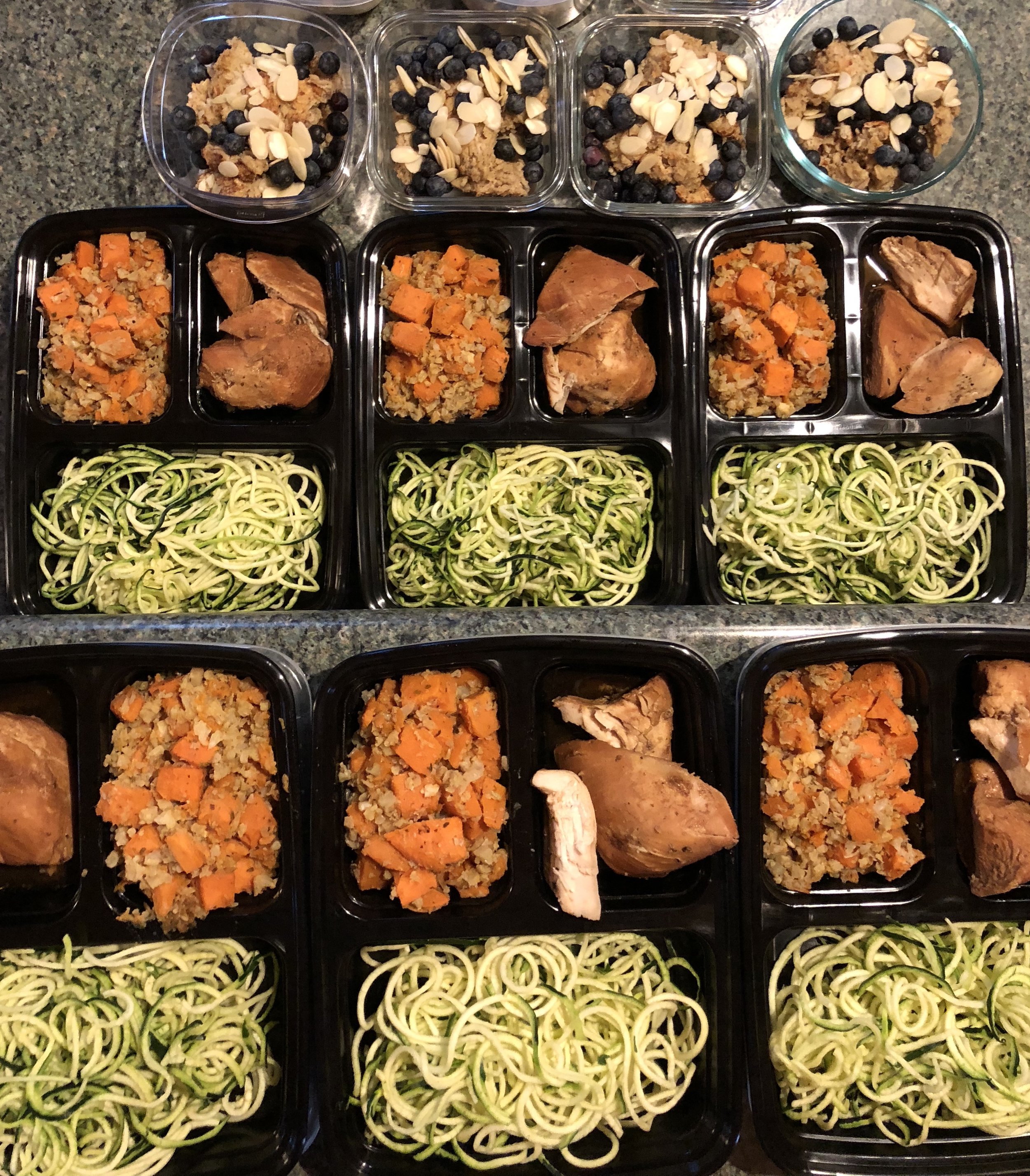 My plan is to prepare all of my breakfasts, snacks and lunches in advance and save our Northwest Fit Meals for our dinners because we CAN'T and we WON'T quit them!
This weeks prep went fast because I bought the zucchini pre-spiraled and the cauliflower and yams diced at PCC which saved a ton of time. Rip the bag open and dump. My kind of prep.
I prepared the crock pot chicken first (doubled the recipe for leftovers), started the HB eggs, prepared the Amish Oatmeal (doubled) and sautéed the veggies very last! I left the zucchini raw and plan to heat when I consume for my lunch this week. I probably will top most lunches with hot sauce. In regards to the Amish Oatmeal I poured 1/8 cup of Unsweetened Almond milk on top with about 2 TBS of blueberries. If I find that I want more protein I might add a little SFH or Mountain Ops vanilla protein powder to the oatmeal or top with Ellenos Greek Yogurt


Sauteed Diced Yams and Cauliflower
1 tsp. garlic powder

1 tsp. onion powder

1 tsp. oregano

1 tsp. black pepper

Optional: 1 tbs. balsamic vinegar or hot sauce to dribble on top

extra virgin olive/coconut oil spray bottle
INSTRUCTIONS
In a gallon ziplock bag, combine brussels sprouts, garlic powder, onion powder, oregano and pepper. SHAKE to mix all ingredients evenly.
Preheat a skillet on medium heat for 30-60 seconds then spray the olive oil and toss in the veggie mix. Optional: drizzle Balsamic vinegar or hot sauce when serving

A versatile, all-purpose shredded chicken that is made in the slow cooker. Perfect for making ahead and freezing until ready to use. Great for soups, stews, quesadillas and quick sandwiches.
Ingredients
4 organic, boneless skinless chicken breasts

1/2 cup chicken stock

1 teaspoon garlic powder

1 teaspoon onion powder

1 teaspoon seasoned salt

1/2 teaspoon black pepper

1/2 dried oregano teaspoon

Optional: Add a twist of flavor by adding 1-2 bottles of coconut aminos and 3 TBS ginger to the pot
Instructions
Place chicken in slow cooker. Sprinkle chicken breasts with all the spices. Add chicken stock. Cover and cook on low for 4-6 hours. Shred chicken with two forks. Cool completely and if you want to freeze, divide into ziplock baggies. This makes just about six cups total and I like to the shredded chicken into three portions with two cups each.
Original recipe by @mountainmamacooks #mountainmamacooks

Check out these awesome Spiralized recipes HERE

10 servings
Serving size: ¾ Cup
INGREDIENTS
1 cup old fashioned oats

1 cup quick quaker oats

2-3 tbsp light nectar agave

2/3 cup unsweetened almond milk

3 tbsp grass-fed butter

1 cup egg whites

1 egg

1/2 tsp salt

2 tsp vanilla extract

Optional: Add cinnamon or pumpkin spice
INSTRUCTIONS
Preheat oven to 350 degrees and grease 13x9 pan with coconut oil

Combine all ingredients (oats, agave, melted butter, egg whites, salt, and vanilla extract) in a large mixing bowl

Stir well then pour into greased pan

Bake for 25-30 minutes or until edges are golden brown

Let cool then break up into little crumbles

Optional: top with warm almond milk, 2 tsp almond slivers and berries (not included in nutrition facts)

Original recipe by @healthystepsnutrition #healthystepsnutrition
SNACKS FOR THE WEEK:
APPLE + 1-2 TBS Almond butter + 1 HB EGG
CARROTS + HUMMUS